Our Story
For the love of dogs and sustainability
Our Story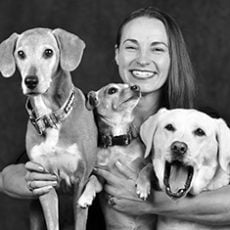 Cycle Dog's goal is to create the world's best dog products with a focus on the environment and to raise awareness of the millions of bike tubes thrown into landfills every year. Hand sewn products are proudly made and tested in Portland, Oregon. Since 2009, Cycle Dog has reclaimed hundreds of thousands of discarded inner tube rubber targeted for landfills.
Lanette Fidrych started by collecting tubes from bike shops and sewing them in her home. After many R&D sessions, she created the iconic inner tube-backed dog collar. Not only eco-friendly, but the rubber backing also doesn't allow bacteria to grow and the collars did not get stinky. She knew she had created something special. After family & friends loved the product, she started selling at Portland's Saturday Market. She sold out the first day and soon decided to quit her corporate job and pursue her passion full time.
Cycle Dog has evolved quite a bit since the early days. With a factory showroom in downtown Portland, Cycle Dog employees still collect inner tubes from most shops in the area. A sewing team sews collars and leashes, but the line has grown to include beds, toys, travel bowls, and accessories. If you are in Portland, please stop in to say hello and have a beer in the Cycle Dog Tavern and Dog Parks.
Visit Us
2056 NW Pettygrove ST.
Portland, OR 97209 USA
503-318-8066
Customer Service Hours:
Monday-Saturday 10-6 PST
Factory Showroom, Tavern & Dog Park
Cycle Dog's Factory and Showroom is located in Portland, Oregon. Come visit us and see our hand-crafted products being made by our sewing team. Visit our Custom Bar to create custom-created dog collars, leashes, harnesses, toys, beds, and more! All specifically tailored to the needs of your pet.
Our new Dog-Friendly Taproom features local craft beers, wines & ciders.  Come play in our 800 sq ft Indoor Dog Park & 800 sq ft Outdoor Dog Play Area! Enjoy a beer & play session with your pup!